Back in the Game
Together with our partners Samsung, Faktor 3 AG and satis&fy, we brought soccer fans to the spectator stands for a test match between FC Bayern München and Olympique Marseille – live from their homes.
Empty Seats – Full Screen
Enabling stadion atmosphere
Even though soccer matches are held again under strict conditions, the stadiums' terraces stay empty due to the COVID-19 pandemic. This means an important part of the experience is missing, both for the players on the field and the fans.
The project Samsung peopLED bridged the physical distance and brings FC Bayern fans directly to a huge LED screen from their homes.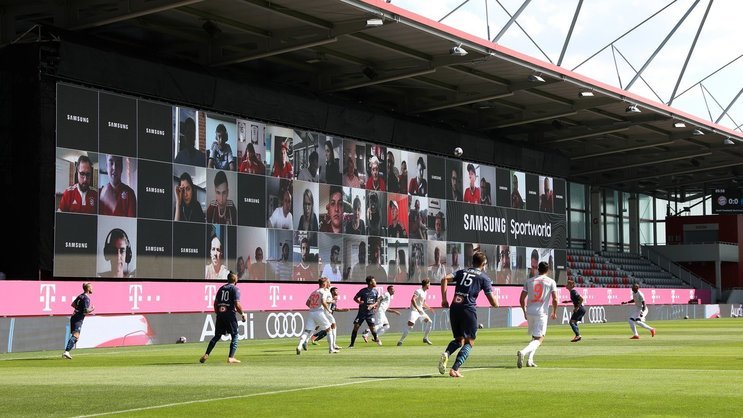 The lucky winners of a preceding Facebook contest gained access to the digital fan area. An exclusive stream with live interviews and comments was also part of the experience.
During the game, fans were streamed live on a 264 m² LED screen and could support their team remotely – the most direct interaction possible under these special conditions.
High-performance infrastructure
Managing a digital fan club
On site, the editorial department had full control over the content displayed thanks to the operator view. While all streams were permanently visible for those in charge, the output on the LED-screen could be blocked in case of unwanted content. To manage users, operators were enabled to refresh or even ban individual streams but also communicate directly via a messaging function.
In preparation and testing as well as on site on match day, we hosted the event and turned it into a smoothly running experience for all parties.