We created a system of dual-screen setups for BMW to allow a range of product explaination formats between trade fair visitors and product experts. The system can either be used in an intimate discussion format with 2-3 visitors or for large presentations with up to 15 visitors. The system consists of a convertible screen and a large screen, both showing a library of presentation slides and interactive simulations.
Slides can be either shown along a narrative or interactively to answer specific questions of the visitors.
We made content updates for BMW i, BMW ConnectedDrive and BMW EfficientDynamics. The exhibit has been shown in Frankfurt, Amsterdam, Leipzig, Paris, Geneva and Shanghai.
Interactive presentation tool
flexible tools to create personality on stage
Interactive simulations provide the basis for uncomplicated discussion of questions regarding driving range and charging times.
A remote control lets the explainer walk around while presenting, while a wireless headset allows them to move freely (and even sit in the car while presenting), as well as easily enabling amplification of their voice.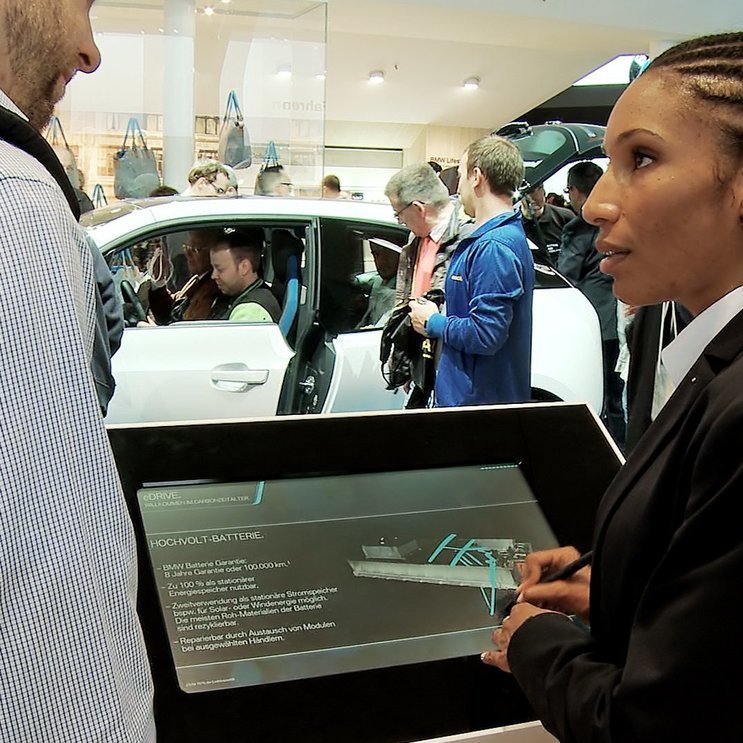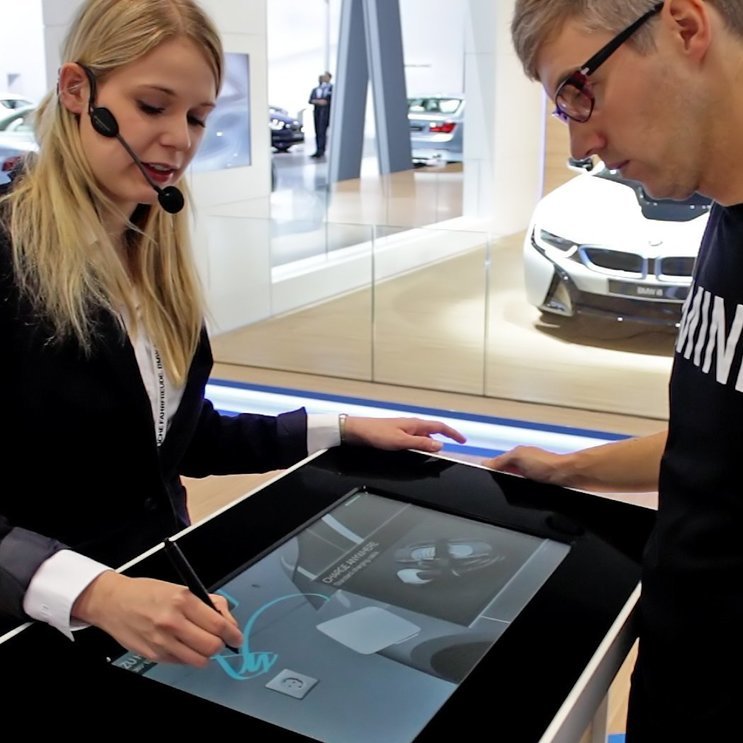 Interactive annotations to all presentation elements can be made with a digital pen to allow for an individual touch.
We created a smartphone magnifier that can duplicate the presenter's smartphone display onto a display surface when doing live demonstrations of BMW apps.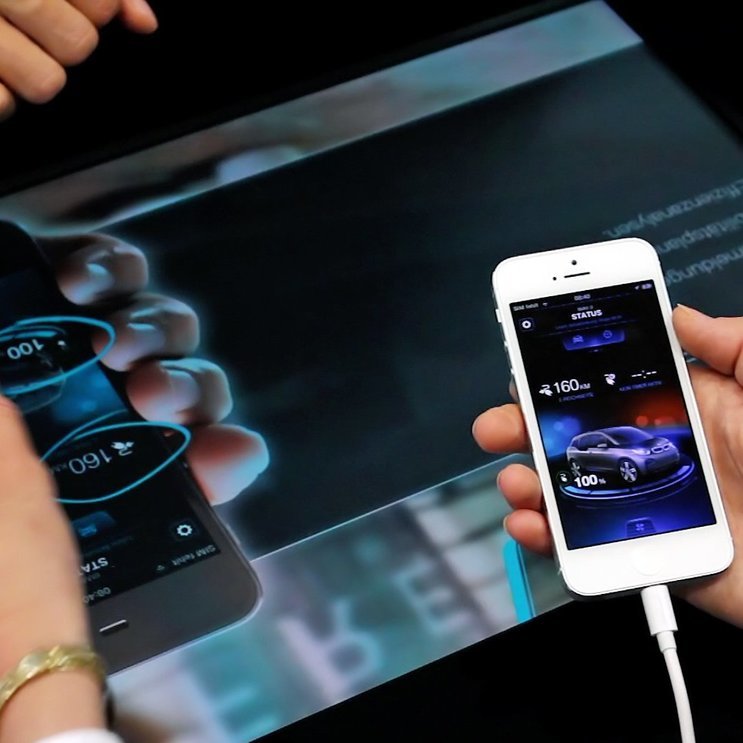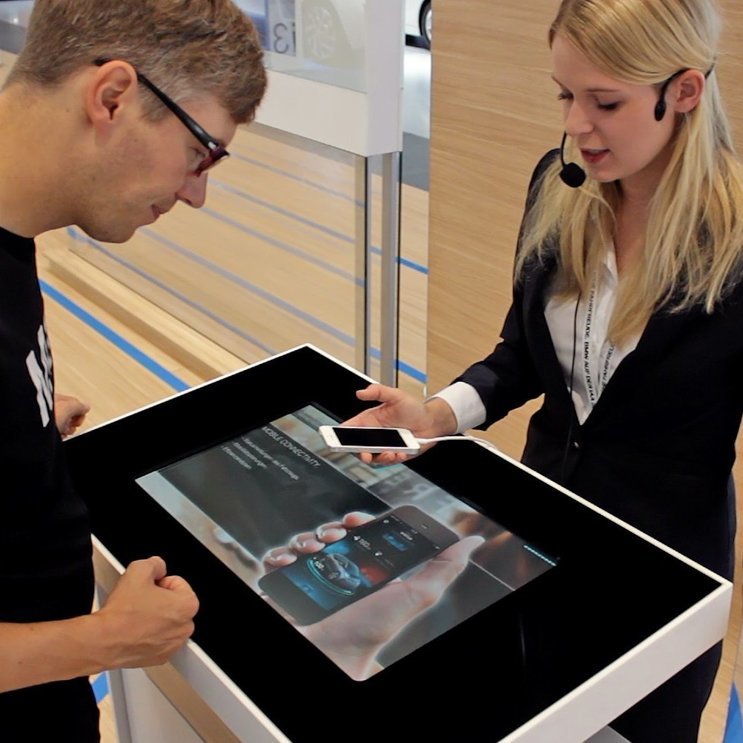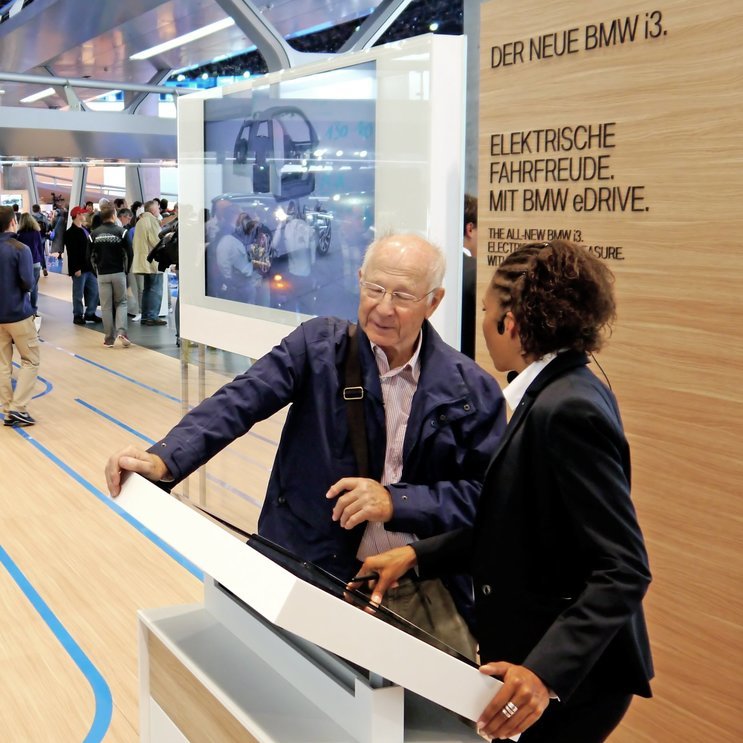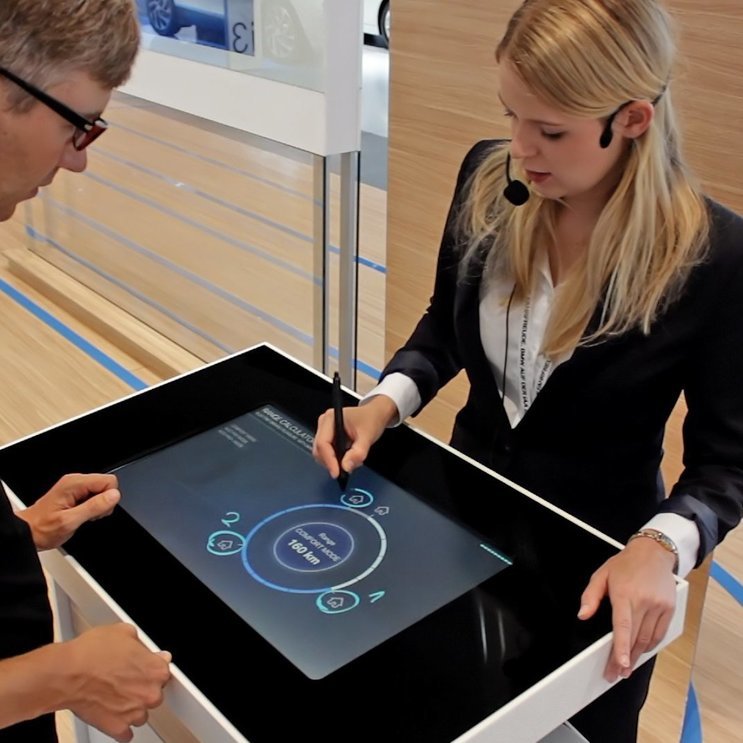 The table can be swiveled to use it in different social situations.
In-Car Cameras allow a transmission of the interior as well as the central BMW Control Display to the large screen.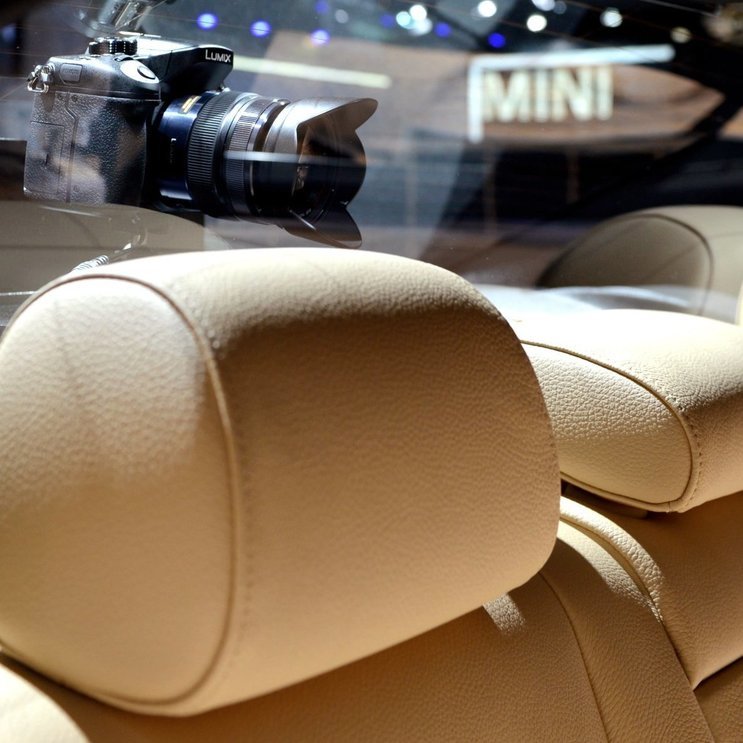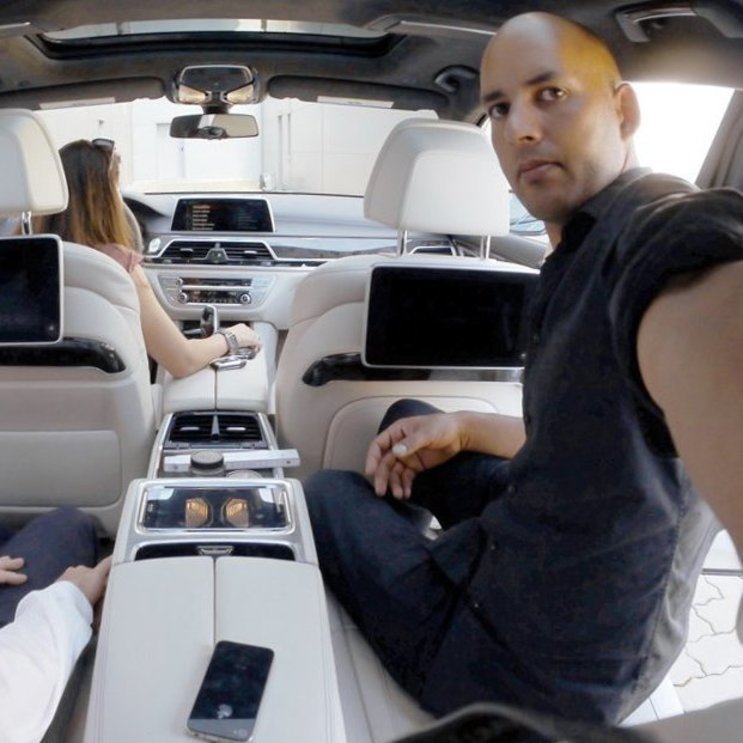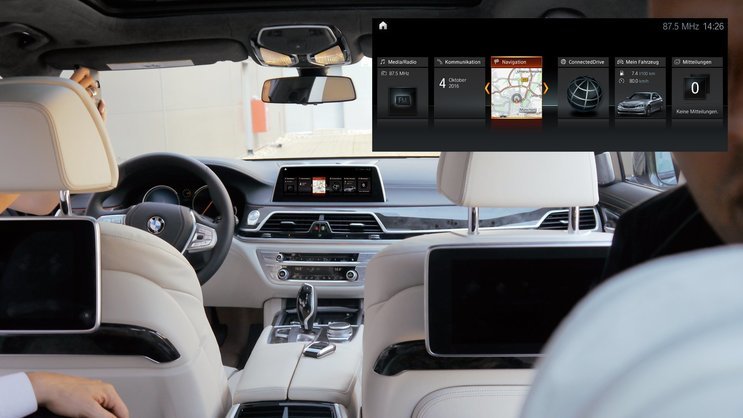 All details of the car interior and the BMW Control Display are presented to a larger audience as a high-resolution and brilliant live-composition.
Professional Deployment
Managed content editing and worldwide shipping
We used our web-based system with bespoke extensions to manage the extensive content collection for the various international markets and languages.
A browser-based view allowed content editors to preview the content.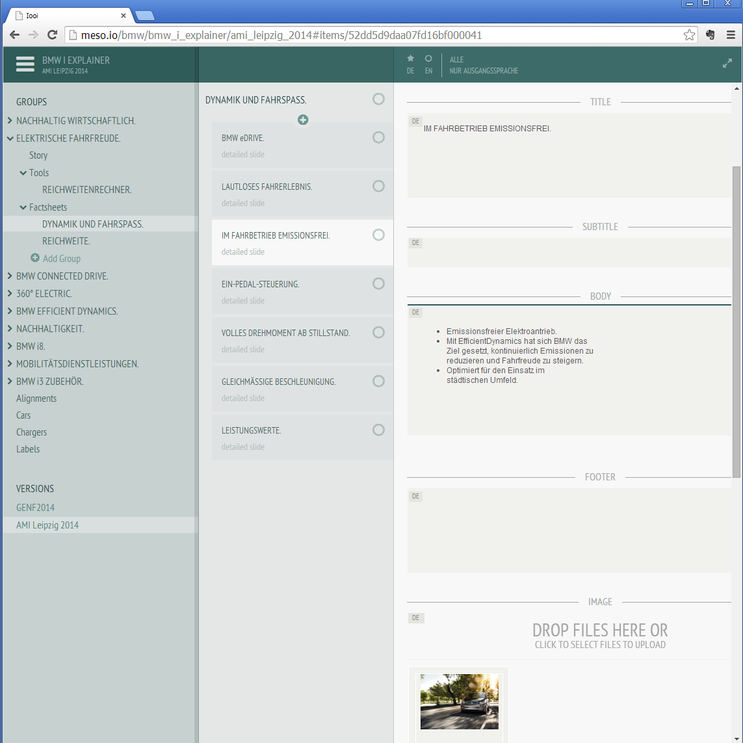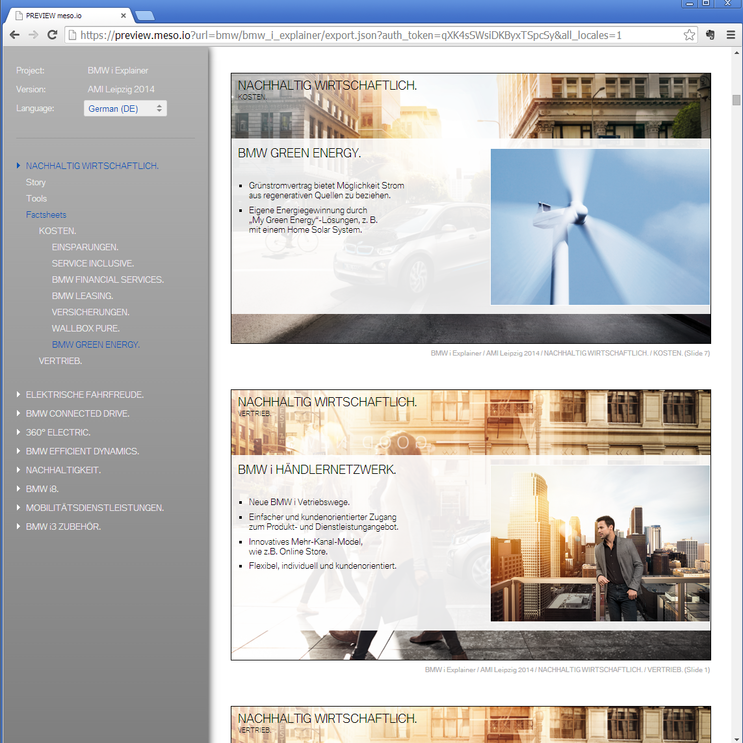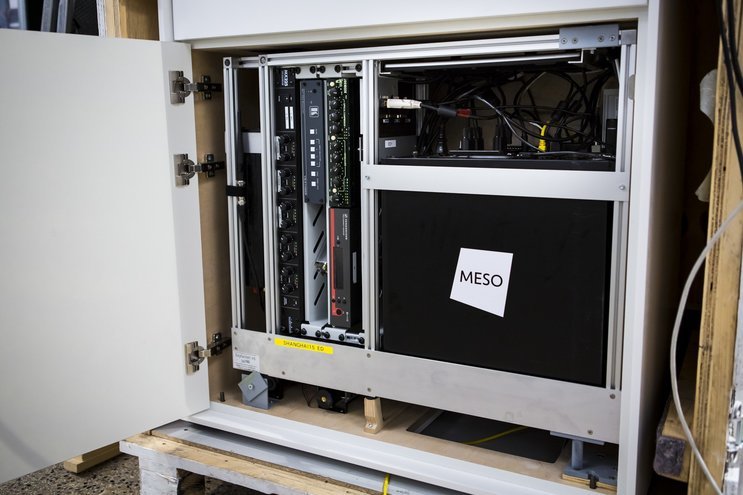 All technical components are provided in a sturdy rack in a small compartment of the exhibit.
Accompanying tablet app
scaled down to the minimum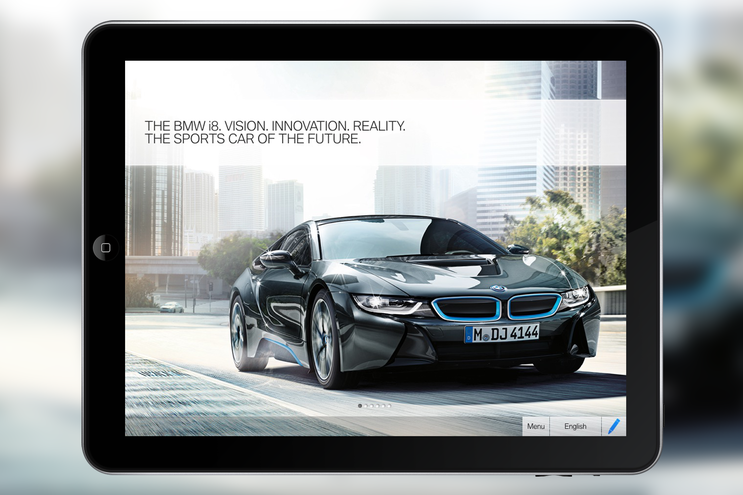 BMW asked us to create a version of the system running on an iPad. We created an app capable of reproducing the same content.
The app is designed for use by professional BMW explainers with hidden navigation elements to allow for a clean presentation. We included the overlay sketching tool which enables the presenter to draw simple highlights with their finger.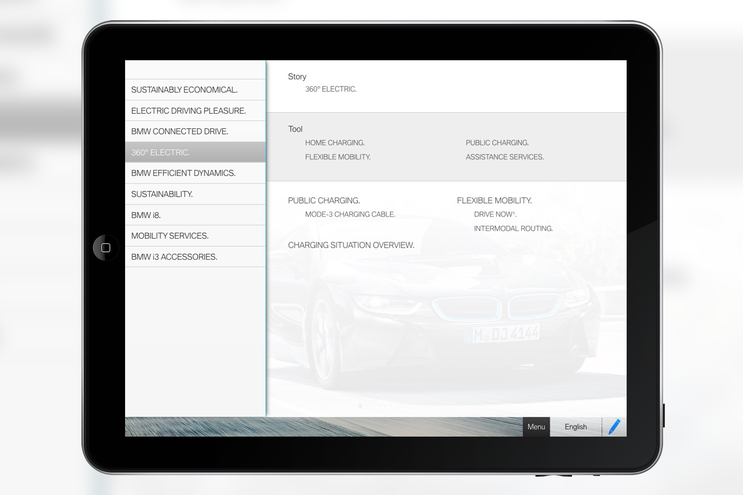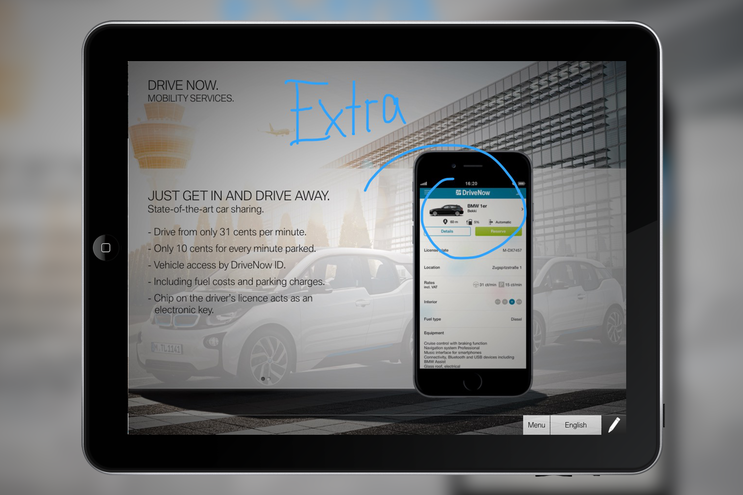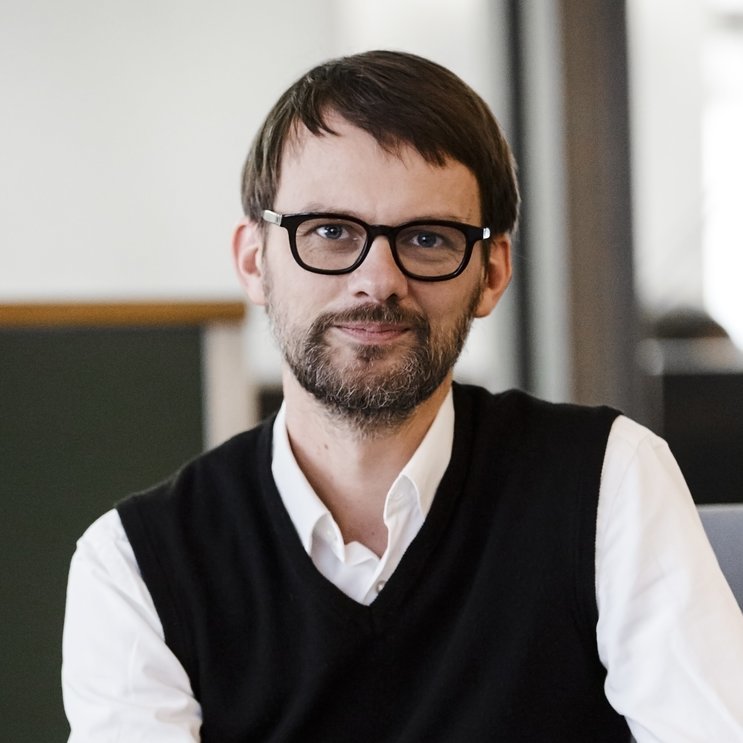 Curious about our approach? Feel free to get in touch!
Sebastian Oschatz
Partner
+49 69 24 000 321
oschatz@meso.net
oschatz@meso.net
+49 69 24 000 321
MESO Digital Interiors GmbH
Gutleutstr. 96 . 60329 Frankfurt . Germany
Team
Johannes Scherg, Woeishi Lean, Daniel Maaz, Fatih Inan, Timon Skerutsch, Klaus Texter