For light-design mastermind Rolf Derrer and architects Vehovar & Jauslin, we designed and programmed a playback system for a light installation at Aarau Central station, which reacts to pedestrians, weather, and time. In cooperation with the team, we also designed a series of highly flexible generative visual scenes, which integrated into the visual flow. The hardware was realized by Lightlife.
After the remodeling of Aarau Central station and the surrounding public spaces, the pedestrian tunnel was named in honor of Albert Einstein in commemoration of his formative years spent in the Swiss town.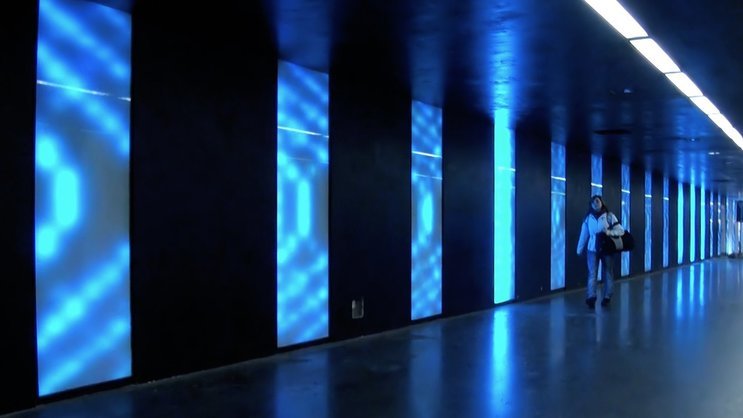 This set the theme for the visual content: scenes which play with physical principles, illustrating laws of time, energy, and gravity; the forces of nature in response to moving bodies and the passing of time.
The playback engine that we developed interweaves generative, always-changing visual algorithms blending in a large number of pre-rendered video loops by Rolf Derrer and Eduardo Santana.
The installation reacts to pedestrian movements via an array of retina sensors embedded into the ceiling of the underpass.
These programmable high-performance sensors record movement vectors of any number of objects and communicate directly with our rendering engine.
The sensors were developed by Tobi Delbruck and were customized for this project by Christian Braendli at the Institute of Neuroinformatics of the University and ETH Zurich.
The system also reacts to the weather outside, the time of day, and the season of the year.
Making of
Behind the scenes
Curious about our approach? Feel free to get in touch!
Max Wolf
Partner
+49 69 24 000 322
wolf@meso.net
wolf@meso.net
+49 69 24 000 322
MESO Digital Interiors GmbH
Gutleutstr. 96 . 60329 Frankfurt . Germany
Team
Sebastian Oschatz, Philipp Steinweber, Markus Lorenz Schilling