The concept car XiM20 by automotive interior supplier Yanfeng envisions the future of autonomous ridesharing. Once again, MESO was among the partners commissioned with specialist tasks in the design and construction process. The centerpiece is a systemic software approach, disrupting traditional workflows and empowering designers to make even last-minute changes.
Network beats String of Pearls
Enabling Intervention
Idea, elaboration, concept, execution – theoretically the standard process in product development. In practice, however, requirements change, different opinions clash, approaches prove to be deadlocks, and new challenges appear along the way. This means even small unexpected changes might entail a whole range of required adaptions – in the worst case making prior work useless and forcing team members to redo their part from scratch.
So why still stick to a rigid procedure with a linear sequence of decisions difficult to reverse? Especially when digital environments have the potential to grant agile and collaborative workflows?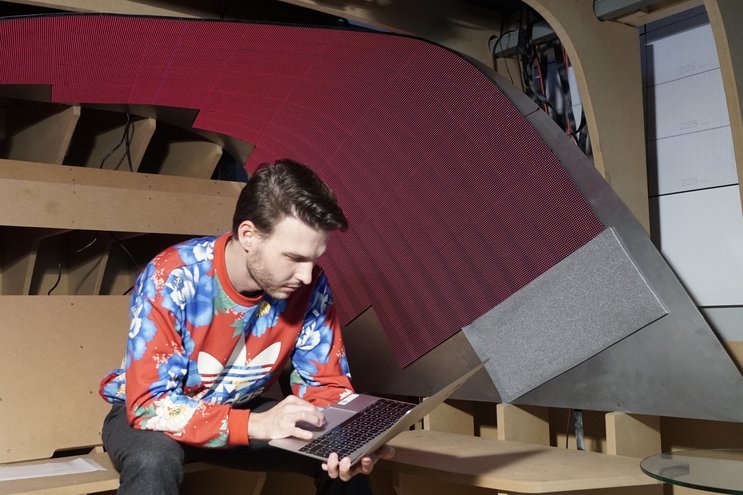 For our client Yanfeng, we built a complex structure of tools and software solutions, enabling designers to make last-minute changes without interfering with prior engineering decisions. It was implemented in the development of their latest concept car and can now serve as a blueprint for future projects, regardless of scope or context.
Focus on Design Decisions
Automated groundwork
The front area is inspired by coffee house bars with a large windshield offering a 180 degree view, functional seating, and a multipurpose counter. The rear zone comes with privacy, a relaxing atmosphere, and comfortable seating. This versatility makes possible a range of activities while traveling, from working to socializing to treating oneself to a moment of undisturbed seclusion from the hectic outside world.
A range of digital features and media displays grants access to information and makes the interior adjustable to individual preferences. Control units for temperature, sound, and navigation systems, smart storage spaces, an elaborate sound system tracking its audience, a bulletin board for real-time updates or a reactive media ceiling – these are just some of the features integrated into this cabin concept. Together, they form a complex technological environment with multiple applications having to work in sync, completely hidden under a smooth, natural surface.
The Smart Touch Table functions as a control panel when active. Screens are covered by an ultra-thin wooded panel, allowing touhc input and the display of visual information to permeate.
Hidden High-Tech
Precise Interplay of Solutions
Lights, sound, touch, animation, tracking, screens, sensors … all these features require individual software tools to control output. We chose different approaches, each taylored to its special task, and united them in one synchronized structure.
Instead of a final software product operating in fixed tracks, we constructed a transparent and accessible infrastructure. By integrating digital set screws, we built the operating basis for diverse digital features included in the XiM20 but left the definition of their output open to Yanfeng's development team. Thanks to this flexible approach, designers are able to make adjustments even minutes before the concept car is presented to an audience.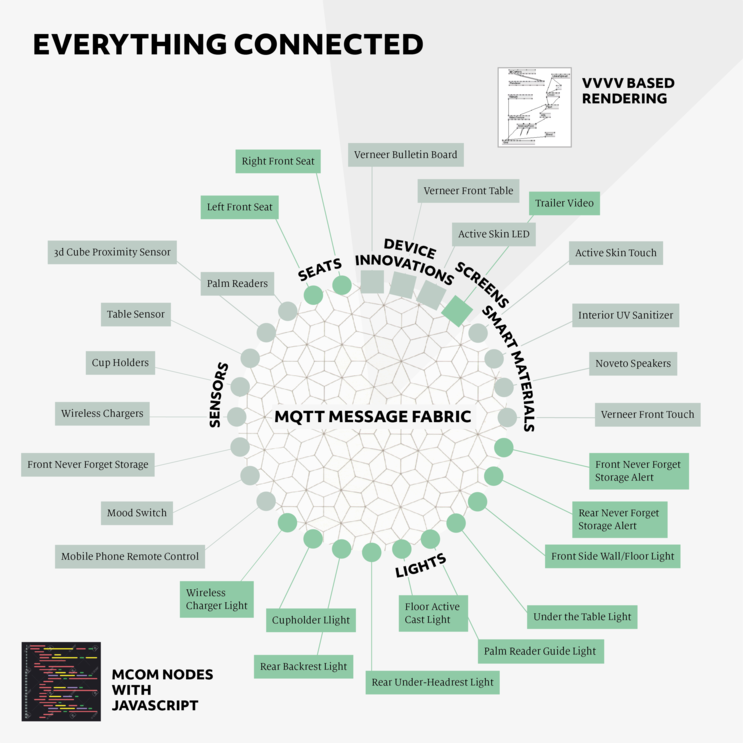 The interior concept is made up of a multitude of different components. Together, lights, materials, screens, reactive features, and seats form a consistent spacial impression but can be controlled individually. Therefore, changes can be made very specifically without touching the components not involved.
The components all require different software, hardware, in- and output. We made sure this complexity is solved by an underlying, reliable system working independently in the background. The technological solutions are intertwined in a fine-tuned network, together generating the desired output.