For the permanent exhibition "Das ist Leder! Von A bis Z" (This is Leather! From A to Z) at Deutsches Ledermuseum, we designed an interactive visitor experience merging historical exhibits, tactile experience, and digital media in one scenographic concept – relying entirely on bespoke low-budget elements. In practice, this meant developing a turnkey solution from scratch in close collaboration with the museum's directorate.
Cross-Medial Scenography
Exhibits, Samples, And the Digital Age
Museums tend to secure their exhibits behind glass or barriers. Especially when it comes to pieces of extraordinary surface qualities, though, visitors feel the natural urge to explore them not only with their eyes but also with their hands. The same is true for Deutsches Ledermuseum, a museum based in Offenbach housing over 30,000 leather objects from all over the world, some of them dating as far back as 4,000 A.D.
In a refurbished space on the museums's ground floor, the exhibition "Das ist Leder! Von A bis Z" (This Is Leather! From A to Z) gives an overview of the versatility of leather and its different uses over the centuries. As part of this new approach, all historical objects displayed in glass cabinets are complemented by the corresponding material samples.
The new media exhibition contributes an essential part to the repositioning of the museum within the cultural landscape.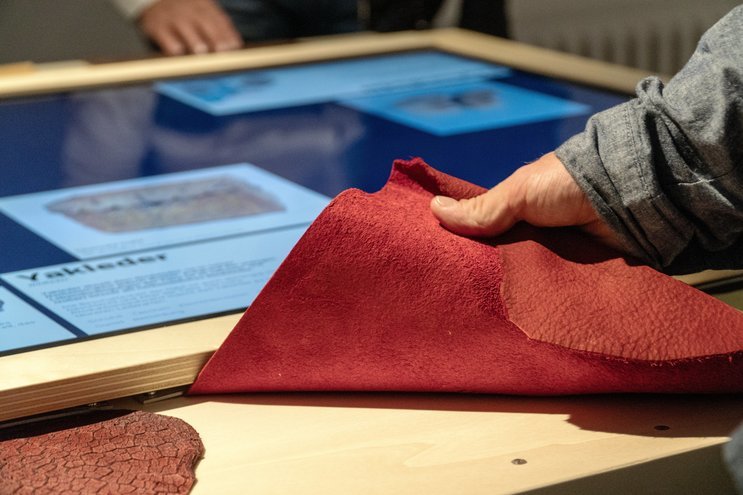 Visitors can not only experience these samples with all senses, their touch also activates the display of detailed information on special features, application examples from the museum's collection, workmanship, and finishings on the screens.
Agile Data Management
Digitalizing The World of Leather
Even though MESO remains the museum's partner in maintaining the exhibition, it was important to give the curators the possibility to independently edit the content presented on the media tables. Therefore, the intuitive user interface draws on a low-barrier CMS. The challenge of narrowing down an extensive database to the key facts important for the general public is supported by an agile structure allowing for constant update while the collection is in the process of digitization.
To create an extensive digital archive as content for the media tables, images of the original exhibits, descriptive information as well as meta data associating every object with the corresponding physical hardware sensor had to be merged in one database. Today, a total of 180 historical pieces is presented in the exhibition. The museum staff can access and update this data independently online as well as integrating alternative or additional samples any time.
Also, the database now set up could serve as a valuable starting point for future projects.
Custom Interaction Concept
An Exhibition Accessible To Everyone
Making-of
Low-Budget Meets High-Tech
In contrast to a temporary installation, the media tables are there to stay – meaning they need to be robust and easy to maintain. Therefore, we opted for effective low-lech hardware.
The heart of the interactive experience are 64 capacitive/optical sensors that were produced in a professional large-scale PCB factory in China – an approach made possible by our specialist knowledge on embedded systems.
From mass item to bespoke technology: in combination with the custom manufactured circuit boards, low-budget microcontrollers turn into advanced touch sensors.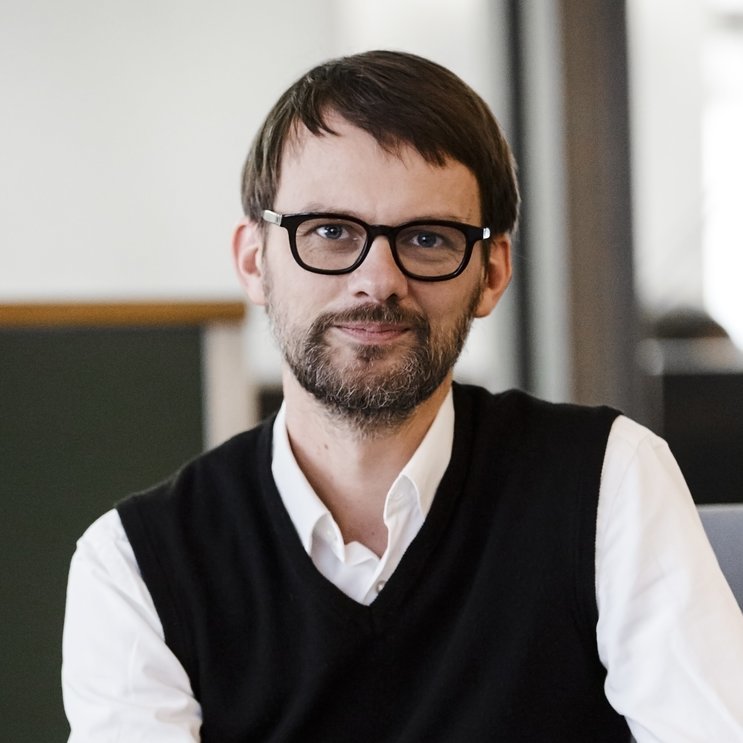 Curious about our approach? Feel free to get in touch!
Sebastian Oschatz
Partner
+49 69 24 000 321
oschatz@meso.net
oschatz@meso.net
+49 69 24 000 321
MESO Digital Interiors GmbH
Gutleutstr. 96 . 60329 Frankfurt . Germany
Team
Johannes Scherg, Jonas Häutle, Timon Skerutsch, Anton Viehl