We were responsible for the screen-design and programming of the 3 m high "Powerwall" for the hausgeräte & friends store by Buddenhagen. Our bespoke digital system merges product data from three different external databases in real-time. The interactive POS system creates an unique shopping experience by presenting more than 4,000 white goods with detailed product specifications, personal customizations and life-size images.
The bigger, the better
Life-size product images for an immersive shopping experience
The interactive media wall is controlled via touch. In "Search Mode", appliances are organized in product categories which can be filtered by more than 40 criteria, such as operating sound level, filling volume or water consumption.
Interactive data-warehouse
Transforming the retail experience through live data
Our bespoke digital system aggregates data from three different external sources to the "Powerwall".
We supplemented the structure with an easy-to-use web interface for sales assistants to configure the displayed data and add special editorial content for the retail store.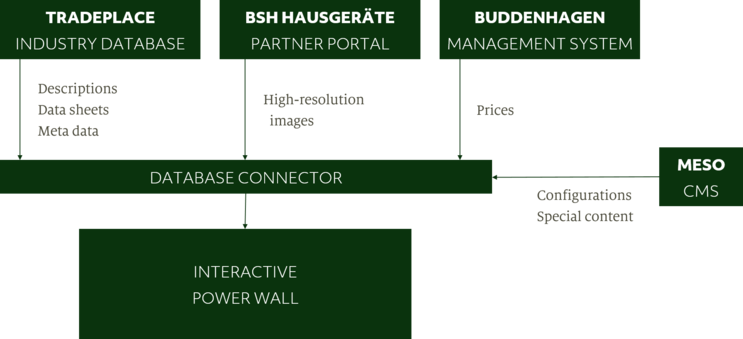 Making-Of
Behind the scenes