The Hyundai "i.oniq" (HED-8) is the third concept car for which we've had the pleasure of furnishing the cockpit media systems. Following up on the 2010 "iFlow" and the 2011 "Curb" and, not resting on their laurels, the Hyundai Design Team raised the bar again and together we came up with a number of world-firsts. The "HED-8" was introduced to the public during the 2012 Geneva International Motor Show.
Micro Warp Screen
Four miniature LED projectors deliver all of the secondary information and are matched to a warped screen that embraces the speedometer.
The display inside the steering wheel is a multi-touchscreen built out of two pico projectors and a high-definition infrared camera, all integrated into the column of the steering wheel. They deliver a seamless edge-blended and dewarped surface; the steering wheel can, of course, be rotated as usual. An infrared line-laser in the lower rim of the wheel helps to detect the driver's fingers.
Triple Ghost Display
The speedometer is a "Pepper's Ghost"-style display with three transparent mirror images stacked in depth.
The cool thing about this is that it gives us three different planes of focus to choose from; nice for some focus/defocus effects that actually do guide the viewer's eye and which also look cool.
Behind the scenes
Making-of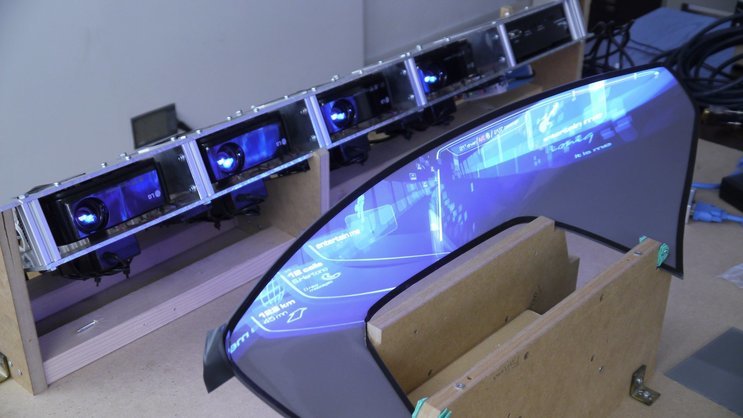 Curious about our approach? Feel free to get in touch!
Max Wolf
Partner
+49 69 24 000 322
wolf@meso.net
wolf@meso.net
+49 69 24 000 322
MESO Digital Interiors GmbH
Gutleutstr. 96 . 60329 Frankfurt . Germany
Team
Jochen Leinberger, Friedrich Söllner, Julian Hermann, Philipp Lorenz, Nils Weger, Max Wolf, Alexander Graf, Philip Reul