In 2005, we planned and created a playback and mapping solution for an interactive surround projection environment designed by 3deluxe for Mercedes-Benz. Conceived of as a room-within-a-room, the exhibition pavilion affords visitors an intuitive, emotional introduction to specific topics before more extensive information can be presented step-by-step.
The central element of the interior is a floor-to-ceiling glass cylinder onto which liquid-like video images of the 360° projection are shown.
The inside of the facade serves as a projection surface for a 360° video sequence. The image suggests the appearance of a glowing liquid through which different blue-colored streaks and geometric moiré move. The constant variations in color and shape create a flowing motion. Typographic content is played from time to time over the atmospheric background film in form of essential questions related to the exhibition topic.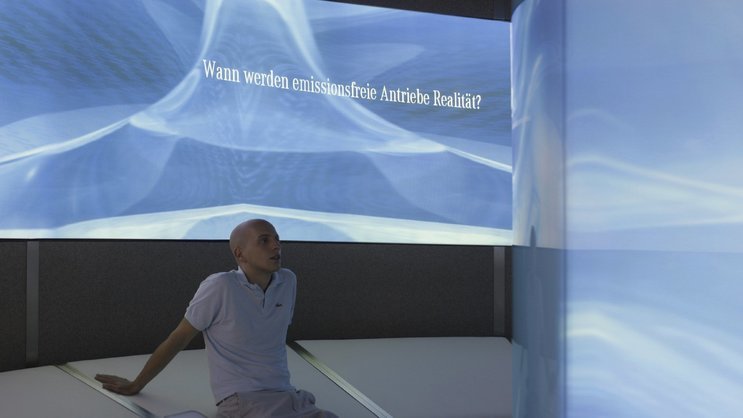 We developed three intuitive interfaces to switch between the four topic areas and select playful sub-menus containing three special interest films in addition to the main film.
The touch-sensitive interfaces are mounted on a white leather bench that runs around three-quarters of the room. Up to three visitors can call up content at any one time with enough space for seven observers. The remaining quarter of the room, located between the two entrances, is taken up solely by standing space.
Behind the scenes
Making-of
We used a total of eight projectors to combine a seamless background with high-definition content in each quadrant. Twelve projectors were responsible for the surround projection.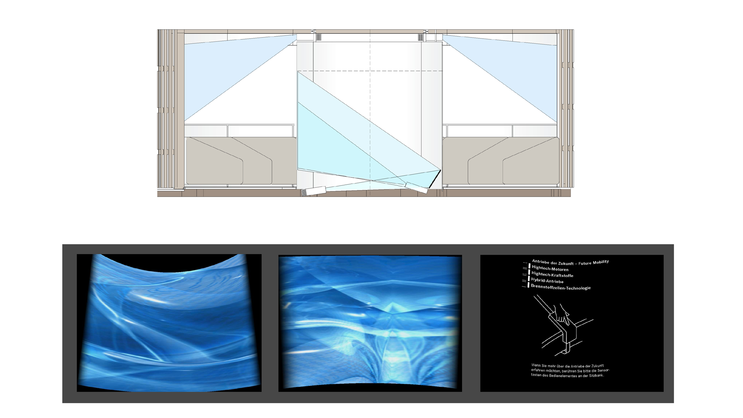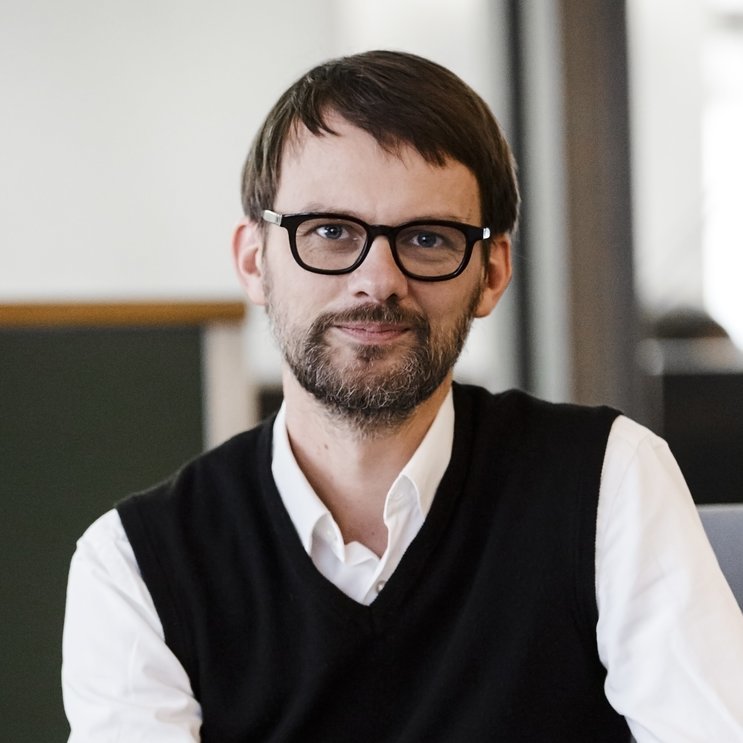 Curious about our approach? Feel free to get in touch!
Sebastian Oschatz
Partner
+49 69 24 000 321
oschatz@meso.net
oschatz@meso.net
+49 69 24 000 321
MESO Digital Interiors GmbH
Gutleutstr. 96 . 60329 Frankfurt . Germany
Team
David Brüll, Sebastian Gregor, Tebjan Halm, Jörg Obenauer, Max Wolf