HERE Technologies is one of the leading players in the field of digital mapping and location data. Premiering for CES 2019 in Las Vegas, we developed a consistent narrative applicable to all elements of the brand appearance. The systemic concept took the entire visitor experience into account including strategy, scenography, content development, interaction design, visualization, and technical implementation. Furthermore, it is designed to roll out for a variety of events and experience centers beyond CES.
Systemic approach
technology brought to life
To stay in contact with their partners and clients, HERE is present at events and trade fairs all year round and is implementing experience centers across the globe. For these brand spaces, we were commissioned to develop a recognizable and consistent overall design including coherent narratives, media strategy and visualization as well as a distinctive scenography enabling impressive product presentations. Rather than looking at each use case in isolation, we went for a systemic approach and created a modular and scalable principle applicable to a wide range of spatial conditions and focus topics.
To achieve maximum usability and authenticity, we worked in close collaboration and constant exchange with HERE's brand and design departments as well as with the actual product owners and developers. In this way, we were able to establish a multi-channel and multi-level communication concept.
Communication Concept
real expertise speaking for itself
The Physical Framework
A Stage for Data
Each area is fitted with an identical architectural element, the Reality Core. Made up of two large-scale extruded triangles formally derived from HERE's logo, they structure the space and act as the main presentation tool.
Three media tables, the Satellites, are used for dynamic group discussions and come with additional interaction features.
The large-scale exterior LED served as a medial extension of the expressive booth architecture designed by Jack Morton. Blurring the boundaries between static structure and digital display, in cooperation with Flora and Fauna we developed a 12-minute loop. These visuals sent strong brand messages and highlighted the six use cases presented in the booth's interior. Furthermore, the visuals were also displayed on the LED of the Highlight Stage.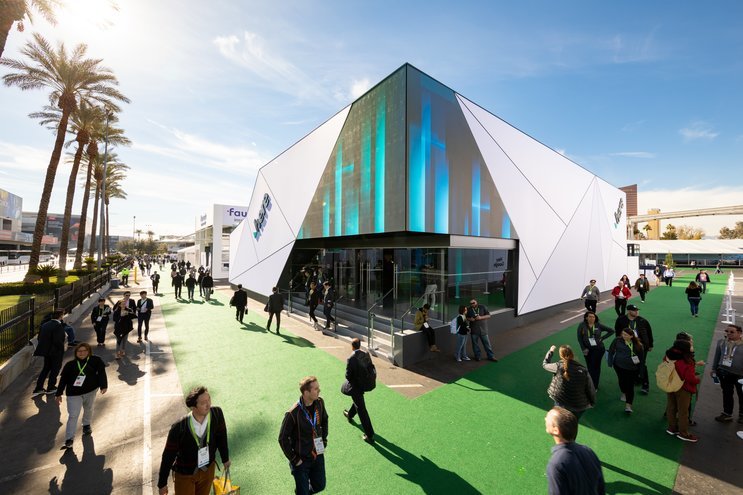 A systemic passepartout
Welcome to the Reality Grid
The extensive product range created by the different departments at HERE is represented by a diverse pool of presentation content, including films, animations, visualizations, and text slides. Together with HERE's content studio, we developed a structural and visual framework compatible with all these formats while embedding them into a unified overall design. This approach means all existing media can be integrated and new presentation content may be fed in any time.
Presenters could choose the level of complexity according to the needs and pre-knowledge of their audience. From bespoke animations allowing high-level introductions to product-oriented deep dives aimed at experts, a broad scope of narrative approaches was possible.
Thanks to the flexible data structure, all content could be accessed from any presentation platform. Depending on demand, brand ambassadors could switch to general information on the company or jump to a different thematic area without changing location.
International Roll-out
A system for all spaces
The next steps include creating versions of the Reality Cores with reduced size for easier transportation and quicker set-up at smaller events, as well as mobile versions for sales staff.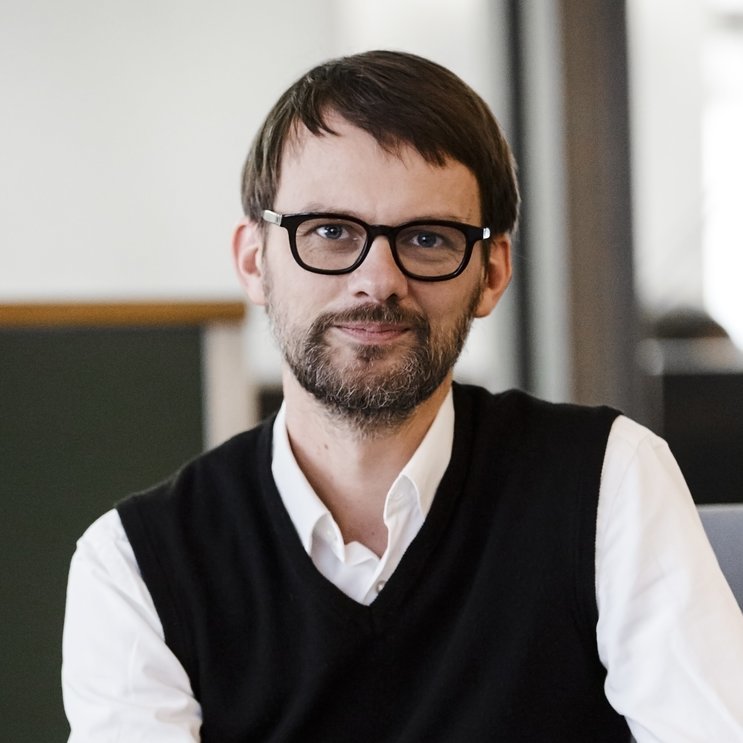 Curious about our approach? Feel free to get in touch!
Sebastian Oschatz
Partner
+49 69 24 000 321
sebastian.oschatz@meso.design
sebastian.oschatz@meso.design
+49 69 24 000 321
MESO Digital Interiors GmbH
Gutleutstr. 96 . 60329 Frankfurt . Germany
Team
Alec Woodward Mitchel, Anna Rack, Alessia Corsini, Alex Leask, Daniel Maaz, Nina Dauer, Fabio Thiel, Johannes Lemke, Joakim Repomaa, Johannes Scherg, David Brüll, Daniel Henning, Woeishi Lean, Sebastian Oschatz, Johanno Heß, Henry Hilge, Kim Angie Cicuttin, Majo Balko, Frank Brammer, Hannes Raff, Ian Rodriguez, Patrick Seuffert, David Morasz, Michel Rubner, Andreas Behl, Marcus Michaely, K. Ulrich Schneider